International Diploma of Entrepreneurial Management (idem)
+45 hours of practical training on how to establish a successful running business
Get your first phase of the International Diploma of Entrepreneurial Management (idem) with a 50% discount for universities
The first phase introduces the Business & life psychology foundation to support and develop the business communities by providing business aids for different business types startups, SMEs, and corporates.
The first phase is titled (Business Psychology), and it includes:
Overview about idem.
Business & Life Psychology Foundations
Multiple Intelligences Theory
BMC – Business model canvas
VPC - Value Proposition
Marketing foundations for startup business
MVPC - Minimum Viable Product
F.S. - Feasibility Study
Technology foundations
Bootstrapping
Successful foundations of Fundraising
Business Development
Star is Born
Project Phase
Execution Mentoring (Follow Up)
Simulation meet (the Lions)
At the end of phase 1, your ideation will be completed, and you will get preliminary feedback from the instructor.
About idem
What is idem?
A specialized program designed as practical and theoretical experience that is designed by the Capital School of Business, managed by Mentors, and accredited by IAO, and UN.
For Whom?
Startups who pursue the Certificate in Entrepreneurial Management develop a solid foundation in entrepreneurial management, professional leadership, and communication skills that prepare them for a variety of career opportunities or to start their own business.
* Startups will have the opportunity to meet successful alumni and entrepreneurial leaders to help them build their professional network.






احصل على المرحلة الأولى للدبلومة الدولية لريادة الأعمال (idem) بخصم 50٪؜ على باقات الجامعات
المرحلة الأولى تستعرض دراسة مكثفة لمبادئ الجانب النفسي أو السيكولوجي من ريادة الأعمال وحياة رواد الأعمال؛ لدعم وتعزيز وتطوير مجتمعات الأعمال وذلك من خلال تقديم المساعدة لمختلف مجالات الشركات الناشئة والصغيرة والمتوسطة والكبرى.
تغطي المرحلة الأولى الموضوعات التالية:
• نظرة عامة حول منهج الدبلومة.
• أسس علم النفس في الأعمال والحياة
• نظرية الذكاءات المتعددة
• مخطط نموذج العمل التجاري
• BMC - نموذج الأعمال
• VPC - عرض القيمة
• أسس التسويق لبدء الأعمال التجارية
• MVPC - الحد الأدنى من المنتج القابل للتطبيق
• ف. - دراسة الجدوى
• أسس التكنولوجيا
• التمهيد
• الأسس الناجحة لجمع التبرعات
• تطوير الاعمال
• ولادة النجم
• مرحلة المشروع
• توجيه التنفيذ (متابعة)
• محاكاة المشروع
في نهاية المرحلة الأولى، ستكون قد انتهيت من تشكيل وبلورة فكرة مشروعك وناقشتها مع المحاضر
عن الدبلومة
ماهي (idem)؟
هي برنامج متخصص ومصمم على أساس محتوى نظري وعملي من قبل Capital School of Business ويدار من قبل المجتمع الدولي لتطوير رواد الأعمال منتورز، ومعتمد من منظمة الاعتماد الدولية IAO والاتحاد الأوروبي
تستهدف الدبلومة الفئات التالية:
الشركات الناشئة التي تسعى للحصول على شهادة خبرة في تطوير وإدارة الأعمال على أساس صلب، والقيادة الاحترافية ومهارات الاتصال لإعدادهم لبدء نشاطهم التجاري في مختلف التخصصات
أصحاب المشروعات الناشئة ستتاح لهم الفرصة لمقابلة رواد الأعمال الريادية ذوي الخبرات الواسعة لمساعدتهم في بناء شبكتهم الخاصة من رواد الأعمال
Deal Terms & Features
Phase (1) training 3 months of practical experiences
The priority is for people with special abilities (PWSA), technology, Green projects.
Discount 50% per attendee
Currently: EGP3000 | EGP6000
Sign In to Access Deal
No Reviews yet, Redeem to Review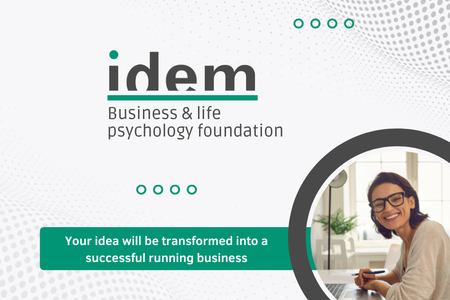 50% off on First Phase for universities package
Sign up to redeem
Expires in