Prepare Monthly VAT reports
Ensure financial stability for startups & SMEs
Get your monthly package VAT reports with expert support and guidance, especially for start-ups and SMEs, and avoid legal issues.
What does the offer include?
Prepare monthly VAT report (Checking sales invoices / Purchase invoices) > customers must provide all tax documentation needed.

Upload report on the E-service tax website
About WMA Consultancy:
We Help Companies Increase Revenues and Decrease Costs. We aspire to be the destination of corporates, investors, and entrepreneurs when there is a need for gearing up to tackle the challenging business complications through business formation and transformation.
To know more about our services, please visit our website:
احصل على تقارير ضريبة القيمة المضافة شهريًا بمساعدة الخبراء وإرشاداتهم لمساعدة شركتك الناشئة أو الصغيرة والمتوسطة ولتجنب أي مشاكل قانونية
هذا العرض يتضمن:
إعداد إقرار ضريبة القيمة المضافة الشهري (مراجعة فواتير البيع والشراء)، ومايتطلبه من توفير المستندات الضريبية اللازمة

إنشاء ورفع الإقرار الشهري على الموقع الخاص بالبوابة الإلكترونية للخدمات الضريبية.
عن WMA Consultancy:
نحن نساعد الشركات على زيادة الإيرادات وخفض التكاليف
نطمح لأن نكون وجهة الشركات والمستثمرين ورجال الأعمال عندما تكون هناك حاجة للاستعداد لمواجهة تعقيدات الأعمال الصعبة من خلال تشكيل الأعمال والتحول.
لمزيد من المعلومات، بالرجاء زيارة موقعنا الإلكتروني
Deal Terms & Features
Sales invoices less than 50 monthly
عدد الفواتير البيع شهريًا أقل من 50 فاتورة
Currently: EGP2000 | EGP2500
Sign In to Access Deal
No Reviews yet, Redeem to Review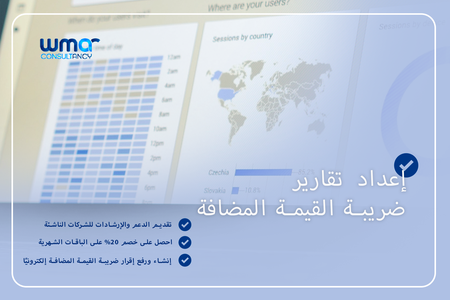 20% discount on monthly package
Sign up to redeem
Expires in