Digital Marketing and Social Media Marketing
We help businesses to build an online presence by connecting them with their buyer persona.
Get your business a customized Social media plan based on your needs and objectives
Because Social media is a game-changer! And it is more than sharing posts, it's all about creating booming and trendy content and ads. It is the best way to say who you are and what your product is, to build a loyal customer and fan base.
A great way to engage with customers as today's client is seeking a place where he can identify with and feel at ease, and social media is a terrific method to start a dialogue with potential customers and keep in touch with existing ones, to acquire nuggets of information and have a deeper understanding of the customer's workflow and what he's about to better tailor your marketing efforts for him. It helps to improve brand loyalty as social media is an excellent way that you need to engage with customers.
That is why Tiye solution is offering a brilliant option that allows clients to customize their packages, ensuring that the clients' goals are met as they should be.
We offer different packages in social media services:
Market plan.
Social media strategy.
Content calendar.
Videos & Reels.
Brand analysis.
Community management
Media buying ( Ads ).
Why Tiye Solutions?!
Tiye Solutions has been a leading Egyptian marketing agency since 2012. Our goal is to provide a wide range of digital solutions for our clients. With our vast and comprehensive social media marketing services, you will stand out among your competitors, attracting the attention of the right audience and bringing them to your company.
For further information visit our website:
https://www.tiyesolutions.com/
Deal Terms & Features
- High rate of ROI.
- Reaching your target audience.
- Creative direction.
- Innovative strategy.
- Reflecting your brand identity.
Currently: EGP4000 | EGP5500
Sign In to Access Deal
No Reviews yet, Redeem to Review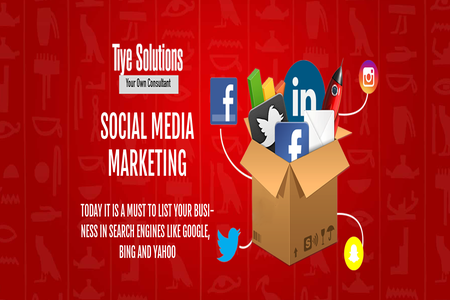 25% OFF ON ALL SOCIAL MEDIA SERVICES
Sign up to redeem
Expires in