Establish your Website/ E-commerce terms and conditions
Establish your business trust and transparency
Protect your online business and establish your business' trust and transparency with your customers by clearly outlining the rules of using your site.
Terms and conditions are legally enforceable rules, they allow you to set standards for how users interact with your site. By setting your terms and conditions you will: Prevent Site Abuse, Limit Liabilities such as warranty issues and loss of profit, Minimize Disputes, and Protect Your Property.
So with Wise law firm, you will get a free one-to-one consultation session about terms and conditions and data protection law so you can protect yourself and your customers and you will establish your business customized terms and conditions.
What does the offer include?
20 minutes consultation session

Customized terms and conditions for your business
About Wise law firm:
WISE is a law firm that provides outstanding legal services varies between Legal, procedural, and financial consultations.
احمِ نشاطك التجاري عبر الإنترنت ورسخ ثقة شركتك وشفافيتها مع عملائك من خلال تحديد قواعد استخدام موقعك بوضوح.
الشروط والأحكام هي قواعد واجبة التنفيذ قانونًا ، فهي تسمح لك بوضع معايير لكيفية تفاعل المستخدمين مع موقعك. من خلال تحديد الشروط والأحكام الخاصة بك ، سوف: تمنع إساءة استخدام الموقع ، والحد من المسؤوليات التى قد تتحملها مثل مشكلات الضمان وخسارة الأرباح ، وتقليل النزاعات ، وحماية الممتلكات الخاصة بك.
لذا مع شركة Wise للاستشارات القانونية ، ستحصل على جلسة استشارة مجانية حول الشروط والأحكام وقانون حماية البيانات حتى تتمكن من حماية نفسك وعملائك وستقوم بإنشاء شروط وأحكام مخصصة لشركتك.
هذا العرض يتضمن:
1. جلسة استشارية ل 20 دقيقة
2. تحديد الشروط والأحكام الخاصة بعملك
عن Wise law firm:
تعمل وايز للاستشارات القانونية علي تقديم خدمة متميزة في عدة مجالات منها الاستشارات القانونية والاجرائية والمالية للشركات المختلفة.
No Reviews yet, Redeem to Review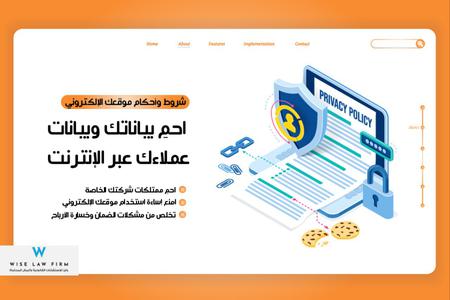 60 % off + Free consultation session
Sign up to redeem
Expires in