Establish your business
Get all that you need to legalize, structure, and diagnose your business
Establish your business with the Instadeel Establishment package
Any business has to have a professional location for business address to get all its legal requirements such as registration number and the business itself must be structured whether a partnership, a limited liability company (LLC), Solo properties, or a corporation. And your business itself needs consultation and guidance.
All of the previously mentioned are included in instadeel establishment package with the support of our service providers(MENTORS' and Wise law firm) instadeel has generated the optimum package for your business establishment with free 20 minutes consultation sessions to choose your suitable business structure and diagnosis session to ensure your success.
What does the offer include?
Pre- Establishment consultation 20 minutes session
The establishment process with all its legal requirements involved
Post-establishment needs assessment
Scientific guidelines for your business 20 minutes consultation session
A virtual office in Bavaria towers on the 'ring road'
Local and international legal registration /support
About Wise law firm:
WISE is a law firm that provides outstanding legal services varies between Legal, procedural, and financial consultations
About Mentors':
Mentors believe that any startup or SME should have certain support to scale up the business and overcome the challenges that the business might face.
To know more about our supporting system, please visit our website
https://www.mentorsis.com/about-us/
احصل على باقة إنستاديل لتأسيس الشركات
لـتأسيس عملك بطريقة صحيحة يجب اختيار عنوان مميز و احترافي لتسجيل و استخراج الأوراق الرسمية والبطاقة الضريبية، اختبيار نوع الهيكل التأسيسي المناسب للشركة الخاصة بك سواء كانت شراكة أو شركة ذات مسؤولية محدودة (LLC) أو ممتلكات فردية أو شركة، والتوجيه العملي لضمان نجاح الشركة.
كل ما سبق يمكنك الحصول عليه من باقة إنستاديل لتأسيس الشركات بدعم من أبرز مقدمى الخدمات لدينا (منتورز 'و وايز للاستشارات القانونية) ، حيث أنشأت إنستاديل الحزمة المثلى لمؤسستك التجارية مع جلسات استشارية مجانية مدتها 20 دقيقة لاختيار هيكل عملك المناسب وجلسة تشخيص لعملك لضمان نجاحك.
هذا العرض يتضمن:
1. جلسة استشارية ل 20 دقيقة لمناقشة متطلبات ما قبل التأسيس
2. عملية التأسيس بكل مشتملاتها القانونية
3. تقييم احتياجات الشركة لمرحلة ما بعد التأسيس
4. جلسة استشارية ل20 دقيقة لمناقشة الإرشادات العلمية لعملك
5. مكتب افتراضي في أبراج بافاريا على "الطريق الدائري"
6. تسجيل واستخراج الأوراق الرسمية و البطاقة الضريبية
عن Wise law firm:
تعمل وايز للاستشارات القانونية علي تقديم خدمة متميزة في عدة مجالات منها الاستشارات القانونية والاجرائية والمالية للشركات المختلفة
عن منتورز؟
منتورز هو مجتمع لتطوير رواد الأعمال لاعتقاده بأنَّ أي شركة ناشئة أو صغيرة أو متوسطة يجب أن تحصل على دعم معين لتوسيع نطاقها والتغلب على التحديات التي قد تواجهها.
لمعرفة المزيد عن نظم دعم المجتمع لرواد الأعمال، يرجى زيارة موقعنا على الإنترنت
https://www.mentorsis.com/about-us/
No Reviews yet, Redeem to Review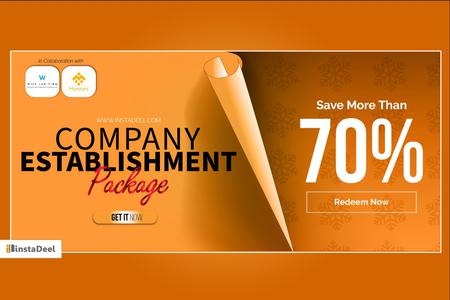 70 % off for company establishment package
Sign up to redeem
Expires in