Private Office Rent
Rent your private office and get your work done
Are you looking for a professional location for your business address? A Private office in MENTORS' Global Business Community is exactly what you're looking for!
Location
: Our office is located on the 'ring road' among multinational companies and a remarkable administrative complex
Get your own office by renting your area with MENTORS' global business community, and get your work done in an environment that helps you increase productivity.
Take the hassle out of finding a location for your business; To rent an office in a distinguished administrative building on the Maadi Ring Road
This offer includes:
Monthly rent for private offices
Coming to the office once a week = 4 times a month
Fully equipped offices with services (internet, air-conditioning, drinks, printing, photocopying, receiving your postal transactions in case the company is registered with MENTORS')
A free 1-hour consultation session with MENTORS' entrepreneurs to develop your performance and activity
Get InstaDeel plus membership for 3 months for free
You will get more than just an office!
About Mentors'
Mentors believe that any startup or SME should have certain support to scale up the business and overcome the challenges that the business might face.
To know more about our supporting system, please visit our website
https://www.mentorsis.com/about-us/
احصل على مكتبك الخاص مع مجتمع منتورز لتطوير ريادة الأعمال، وانجز عملك في بيئة تساعدك على زيادة الإنتاجية. تخلَّص من عبء البحث عن موقع لعملك؛ باستئجار مكتب في مبنى إداري متميز على طريق دائري المعادي
الموقع: في أبراج بافاريا على الطريق الدائري وسط مجمع إداري يضم عدد مع الشركات العالمية متعددة الجنسيات.
هذا العرض يشمل:
إيجار شهري للمكاتب الخاصة
الحضور للمكتب مرة أسبوعيًا = ٤ مرات في الشهر
مكاتب مجهزة بالكامل مع الخدمات (الإنترنت، المكيف، المشروبات، الطباعة، التصوير، استلام معاملاتك البريدية في حال تسجيل الشركة مع منتورز)
جلسة استشارية مجانية لمدة ساعة مع رواد أعمال منتورز لتطوير أداءك ونشاطك
الحصول على باقة العضوية (InstaDeel plus membership) لمدة ٣ أشهر مجانًا
(لن تحصل على مجرد مكتب، بل على فرصة للانضمام إلى مجتمع يضم رواد أعمال وأصحاب شركات من مختلف بلدان العالم)
ماهو مجتمع منتورز؟
منتورز هو مجتمع لتطوير رواد الأعمال لاعتقاده بأنَّ أي شركة ناشئة أو صغيرة أو متوسطة يجب أن تحصل على دعم معين لتوسيع نطاقها والتغلب على التحديات التي قد تواجهها.
لمعرفة المزيد عن نظم دعم المجتمع لرواد الأعمال، يرجى زيارة موقعنا على الإنترنت
https://www.mentorsis.com/about-us/
Deal Terms & Features
This offer is for one person
Rent once a week —> 4 times a month
pay in advance
الشروط:
هذا العرض لشخص واحد
الإيجار مرة واحدة في الأسبوع —> ٤ مرات شهريًا
الدفع مقدمًا
Currently: EGP975 | EGP1300
Sign In to Access Deal
No Reviews yet, Redeem to Review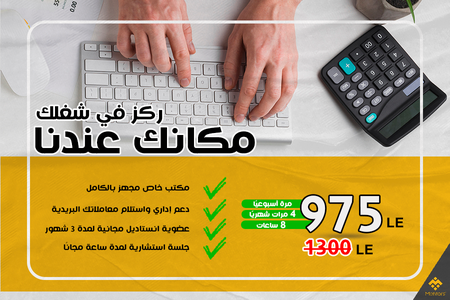 25% discount on monthly fees
Sign up to redeem
Expires in