B2B Leads Generation Tool
To see 15m+ B2B database around the world, segmented by country, industry and company size
B2B Leads Generation Tool which includes but not limited to:
1. To see 15m+ B2B database around the world, segmented by country, industry and company size and to see the companies that you want to add to your network.
2. Email Campaigns creator and email campaigns sequencer to enable you send emails until recipients reply) by adding their own SMTP provider and IMAP. Track opens, clicks, bounce, unsubscribe, replies and create nice emailing campaigns in plain text or HTML.
3. Chatbot builder that could be connected to your website and app to convert your visitors into leads. Automatically chat with your visitors and capture data from them.
4. Daily Registered Domains With Leads Information around the world day by day. Daily dump of all domains created on the Internet, that's mean all new companies. You will get around +100K leads of new domains created each day with location, phone numbers, emails, domains, registered date, and more.
5. Extract emails and contacts from B2B social media LinkedIn Find new leads in one click and create targeted lists. Our system will help you to find leads based on job title, location, country, industry, and company size.
No Reviews yet, Redeem to Review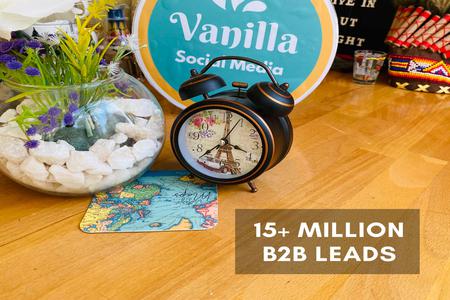 25% Discount on a B2B Leads Generation
Sign up to redeem
Expires in