Free Advisory Session
Get your advisory session now and take your business to the next level
Are you looking for professional advice for your business? instaDeel offers you up to 30 mins. Free consulting session to enhance arrange your thoughts, formulate your ideas, arrange your priorities, and kick off your business.
What does the Offer include?
Our Free consulting sessions are:
1. Business Plan consulting
2. Business Management consulting
3. Business Tracking Assessment
4. Idea Shaping consulting
5. Legal consulting
6. Technical Support
7. Marketing consulting
8. Digital Marketing consulting
9. Logistics and Supply Chain consulting
10. Fundraising consulting
About instaDeel:
We are a marketplace from one side, we are here to connect you to the most relevant resources you need. On the other side, we are here to support you to grow your business and reach out to more customers for your services and products.
هل تبحث عن استشارات احترافية لعملك؟ انستاديل تقدم لك مجموعة مميزة من الجلسات الاستشارية في مجالات متعددة ومجانية لفترة محددة، لنساعدك على النهوض بنشاطك والارتقاء به للمستويات المتقدمة.
الاستشارات المقدمة من انستاديل تتضمن:
1. استشارات لمناقشة خطط الأعمال والشركات
2. استشارات في إدارة الأعمال
3. استشارات في تقييم الأعمال الجارية
4. استشارات لتقييم الأفكار الريادية
5. استشارات في الدعم التقني
6. استشارات في التسويق والتسويق الالكتروني
7. استشارات في الخدمات اللوجيستية وسلاسل التوريد
8. استشارات في كيفية الحصول على تمويل
اضغط على (Redeem Now) واختر خدمتك المجانية وسنتواصل معك فورًا
Reviews
moaaz abdelhamid
2022-10-06

It was great session, thank you
Report
Mohamed Ragy
2022-09-19

thanks a lot it was very helpful
Report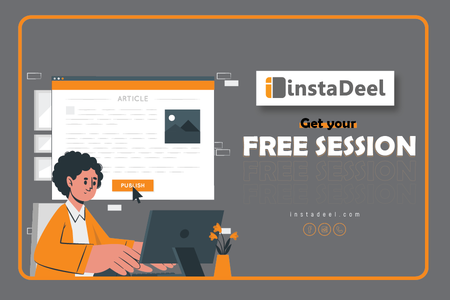 Free 30 mins.
Sign up to redeem
Expires in