Register your business in 30 mins
Get your virtual office and register your business instantly
Are you looking for a professional location for your business address? A virtual office in Cairo Offices Space is exactly what you're looking for!
Location: Our office is located on the 'ring road' among multinational companies and remarkable administrative complex
Why Virtual Office?
You will have your office within 30 mins.

Local and international legal registration /support
Why MENTORS':
MENTORS' will daily process all your mail,

Having front desk to your client's reception,

Dealing with taxation representatives,

Dealing with your bank representatives,

Engaging in some of MENTORS' business activities,

Joining one of biggest business networking community in more than 18 countries,

Special offers/ discounts on our other services,

Access to Business mentoring and supporting value added service,
"You will get more than just a virtual space"


About Mentors':
Mentors believe that any startup or SME should have certain support to scale up the business and overcome the challenges that the business might face.
To know more about our supporting system, please visit our website
https://www.mentorsis.com/about-us/
هل تبحث عن عنوان مميز لشركتك؟ المساحات الافتراضية المقدمة من مجتمع منتورز هي حلك المثالي.
الموقع: في أبراج بافاريا على الطريق الدائري وسط مجمع إداري يضم عدد مع الشركات العالمية متعددة الجنسيات.
لماذا تختار مكتبًا افتراضيًا بدلاً عن المكتب التقليدي؟
لإنك ستحصل عليه في خلال 30 دقيقة فقط
2. ستستطيع التسجيل واستخراج أوراقك الرسمية وبطاقتك الضريبية
ولماذا منتورز؟
1. لأننا ستتابع جميع رسائل البريد الخاصة بك يوميًا
2. وسنستقبل عملاءك
3. سنتعامل مع ممثلي الضرائب
4. وممثلي البنوك
5. سنقوم بدعوتك إلى مجتمعنا الدولي الذي يضم أكثر من 18 دولة حول العالم
6. سندعوك للمشاركة في أنشطتنا المختلفة
7. ستكون على اطلاع دائم على أحدث العروض
(لن تحصل على مجرد مكتب افتراضي لتخليص أوراقك الرسمية، بل على فرصة للانضمام إلى مجتمع يضم رواد أعمال وأصحاب شركات من مختلف بلدان العالم)
ماهو مجتمع منتورز؟
منتورز هو مجتمع لتطوير رواد الأعمال لاعتقاده بأنَّ أي شركة ناشئة أو صغيرة أو متوسطة يجب أن تحصل على دعم معين لتوسيع نطاقها والتغلب على التحديات التي قد تواجهها.
لمعرفة المزيد عن نظم دعم المجتمع لرواد الأعمال، يرجى زيارة موقعنا على الإنترنت
No Reviews yet, Redeem to Review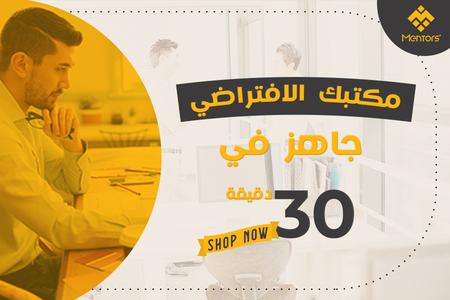 75% discount on annual fees
Sign up to redeem
Expires in