Virtual Office (Mega Package)
Get your annual subscription plan with extra benefits
Are you looking for a professional location for your business address? A virtual office in Cairo Offices Space is exactly what you're looking for!
Location: Our office is located on the 'ring road' among multinational companies and a remarkable administrative complex
What does the Offer include?
1. You will have your office within 30 mins.
2. You will get 60 mins of business consulting
3. New clients acquiring
4. FREE Quarter subscription membership in InstaDeel
5. Saving up to 40% on medical insurance
6. Get a BenefEx card for FREE and enjoy savings on special deals and discounts through a wide network of service providers & merchants
7. Joining one of the biggest business networking communities in more than 20 countries
8. Get 30 mins of legal advice
Else? Why MENTORS':
1. MENTORS' will daily process all your mail,
2. Having a front desk to your client's reception,
3. Engaging in some MENTORS' business activities,
4. Special offers/ discounts on our other services,
1. Access to Business mentoring and supporting value-added service,
5. Dealing with taxation representatives
6. Dealing with your bank representatives
7. Local and international legal registration /support
You will get more than just a virtual space
About Mentors'
Mentors believe that any startup or SME should have certain support to scale up the business and overcome the challenges that the business might face.
To know more about our supporting system, please visit our website
https://www.mentorsis.com/about-us/
هل تبحث عن عنوان مميز لشركتك؟ المساحات الافتراضية المقدمة من مجتمع منتورز هي حلك المثالي.


الموقع: في أبراج بافاريا على الطريق الدائري وسط مجمع إداري يضم عدد مع الشركات العالمية متعددة الجنسيات.
عرض المكتب الافتراضي من منتورز يتضمن؟
1. ستحصل على مكتبك في 30 دقيقة فقط
2. تسجيل واستخراج أوراقك الرسمية وبطاقتك الضريبية
3. الحصول على 60 دقيقة من الاستشارة الإدارية لمشروعك
4. الدعم للحصول على عملاء جدد
5. الحصول على باقة إنستاديل الربع سنوية مجانًا
6. خصومات على التأمين الصحي تصل إلى 40%
7. كارت بينيفكس مجاني لمدة عام للاستفادة بخصومات على مجموعة من العلامات التجارية
8. الانضمام لمجتمع يضم رواد أعمال في أكتر من 20 دولة
9. الحصول على استشارة قانونية لمدة نصف ساعة
(لن تحصل على مجرد مكتب افتراضي لتخليص أوراقك الرسمية، بل على فرصة للانضمام إلى مجتمع يضم رواد أعمال وأصحاب شركات من مختلف بلدان العالم)
1. لأننا ستتابع جميع رسائل البريد الخاصة بك يوميًا
2. وسنستقبل عملاءك
3. سنتعامل مع ممثلي الضرائب
4. وممثلي البنوك
5. سندعوك للمشاركة في أنشطتنا المختلفة
No Reviews yet, Redeem to Review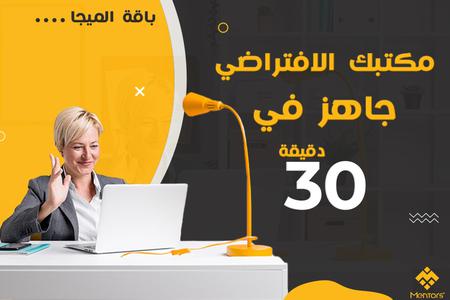 +70% discount on monthly package
Sign up to redeem
Expires in