MENTORS 4 AFRICA: ZAMBIA ROUND 2
+40 hours of practical training on how to establish a successful running business
Get your first phase of the International Diploma of Entrepreneurial Management (idem) SPECIAL EDITION for Zambian Entrepreneurs with a 90% discount.
The first phase introduces the Business & life psychology foundation to support and develop the business communities by providing business aids for different business types startups, SMEs, and corporates.
The first phase includes:
Business & Life Balance, Ideation Phase
Business Modeling and Marketing Strategies
Business and Technology Fundamental
Bootstrapping and Fundraising
How to pitch your idea in a minute?
At the end of phase 1, your ideation will be completed, and you will get preliminary feedback from the instructor.
About idem
What is idem?
A specialized program designed as practical and theoretical experience that is designed by the Capital School of Business, managed by Mentors, and accredited by IAO, and UN.
For Whom?
Startups who pursue the Certificate in Entrepreneurial Management develop a solid foundation in entrepreneurial management, professional leadership, and communication skills that prepare them for a variety of career opportunities or to start their own business.
* Startups will have the opportunity to meet successful alumni and entrepreneurial leaders to help them build their professional network.
Sign up for Round 2 of level one by:
Redeeming this offer,
Copy the form link and paste it into a blank browser page,
Fill your data inside the form,
Pay 50% of the diploma fees, which equals $25 (you will have to pay for the other $25 at the end of the diploma to graduate)
Just make sure to pay using our dear Mr. Edward Mwaba Ndalama local number: +260 96 4097623
And after paying, just leave a screenshot of the payment to

[email protected]
The diploma will start on 16 January 2023
No Reviews yet, Redeem to Review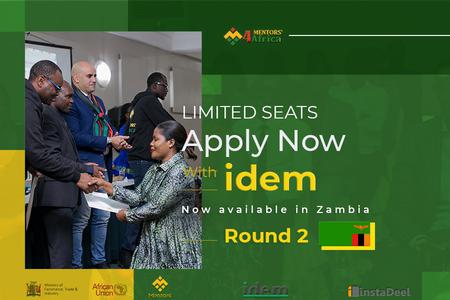 90% discount on round 2
Sign up to redeem
Expires in