Attendance: Design Thinking Bootcamp
find the form below to assign your attendance to the bootcamp
تحت رعاية السيدة الأستاذ الدكتور/ منى محمود عبد اللطيف- مدير مدينة الأبحاث العلمية والتطبيقات التكنولوجية
يعلن نادي ريادة الأعمال بمدينة الأبحاث العلمية عن معسكر تدريبي أونلاين بعنوان:
"Design Thinking Bootcamp"
ومدته خمسة أيام تدريبية من يوم الأحد إلى الخميس 25-29/12/2022 ، بدءأً من السادسة مساءً.
محاور المعسكر:
• Introduction -Design thinking.
• Problem Statement + Buyer Persona.
• Empathy Map.
• Ideation.
• How to define a future state for solution paths.
• Prototype
يسعدنا بتقديم المحاضرات بالمعسكر متخصصين من شركة MENTORS' Group العالمية المتخصصة في هذا المجال، كما أن يعتبر ذلك المعسكر تأهيل للتقديم بالمسابقة Shark Tank Egypt والتي تقام بمصر لإقناع المستثمرين بالإستثمار بأفكار ومنتجات رواد الأعمال المصريين.
لينك التسجيل : https://forms.gle/WDDDcLnqLNMCQSLs5
لينك الحضور علي زووم:
Mentors Team is inviting you to a scheduled Zoom meeting.
Topic: Mentors Team's Zoom Meeting
Time: Dec 25, 2022 06:00 PM Cairo
Join Zoom Meeting
https://us02web.zoom.us/j/83546082673?pwd=TkM4UXJOQ0ZRWEIxbXRNeHpBT1F0dz09
Meeting ID: 835 4608 2673
Passcode: 385030

يوجد شهادات للحضور لمن يحضرويشارك بجميع فاعليات المعسكر بجميع الأيام التدريبية
يسعدنا حضوركم،
أ.د.م/ عمرو صلاح مرسي
المدير التنفيذي لنادي ريادة الأعمال بمدينة الأبحاث
No Reviews yet, Redeem to Review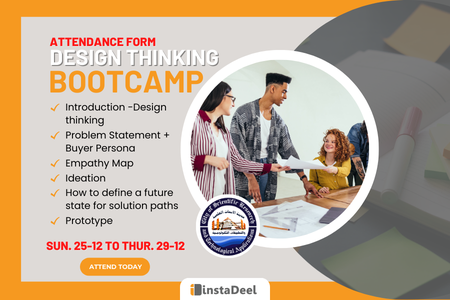 FREE
Sign up to redeem
Expires in