Userback
Collect fast visual feedback from any website or design.
Userback is a customer feedback solution that lets you collect and manage visual feedback from websites and applications using video and annotated screenshots. Built for web agencies, software companies, designers and developers, Userback will save you time by managing feedback for all your projects in one place. Userback is loved by over 20,000 teams who use visual feedback to build better websites and applications, whilst ultimately improving experiences for their customers.
Benefits
* Get high-quality visual feedback with video and annotated screenshots
* Ditch time-consuming email chains that are guaranteed to miss important details
* Save time by not having to chase clients to approve minor changes
* Manage all website feedback in the same place
* No more printed paper with a red pen and scribble!
Deal Terms & Features
New customers only
Less than $1M in funding
Startup is than 2 years old
Less than 10 Employees
Sign In to Access Deal
No Reviews yet, Redeem to Review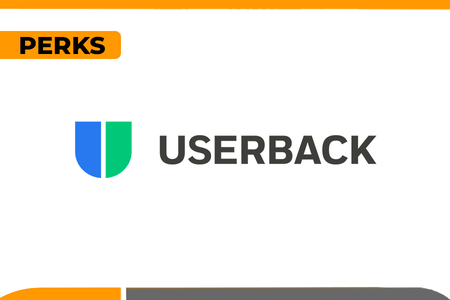 50% off annual plan
Sign up to redeem
Expires in