Awareness in ISO 9001:2015
Training in awareness in ISO 9001:2015
Awareness of ISO 9001:2015 with Dr. Ezz
It specifies requirements for a quality management system (QMS) when an organization needs to demonstrate its ability to consistently provide products and services that meet customer expectations in addition to applicable statutory or regulatory requirements.
The participant will be granted a certificate approved by the CORNERSTONE consulting and training Company.
Duration :3 days 7-8-9/8/2022
Benefits of training in ISO 9001:
Improved chance of winning contracts.
Higher customer satisfaction.
Reduced product or service problems.
Better management.
Increased consistency in business practices.
Enhanced employee satisfaction and job security
Lower costs.
This course is suitable for :
Any individual in an organization who wants to have international recognition.
About CORNERSTONE for Consultation and Training:
Company training in all Fields (Quality, HR, Soft skills, Qualification, Maintenance, calibration, Nutrition, business, sales,...) Also, give quality consultation and build quality systems like ISO 9001,17025,14001,45001....etc. with the best instructors and accredited consultation from NQI.
توعية بنظام الايزو 9001:2015
وهي تحدد متطلبات نظام إدارة الجودة (QMS) عندما تحتاج المنظمة إلى إثبات قدرتها على توفير المنتجات والخدمات التي تلبي توقعات العملاء باستمرار بالإضافة إلى المتطلبات القانونية أو التنظيمية المعمول بها
سيحصل المتدرب على شهادة معتمدة من الشركة
المدة: 3 أيام تبدأ من 2022/08/07
فوائد تدريب 9001:
تحسين فرصة الفوز بالعقود.

زيادة رضا العملاء.

انخفاض مشاكل المنتج أو الخدمة.

إدارة أفضل.

زيادة الاتساق في ممارسات الأعمال.

تعزيز رضا الموظفين والأمن الوظيفي

انخفاض التكاليف.
Deal Terms & Features
The course Includes course material, exams, and certificates
Currently: EGP480 | EGP600
Sign In to Access Deal
No Reviews yet, Redeem to Review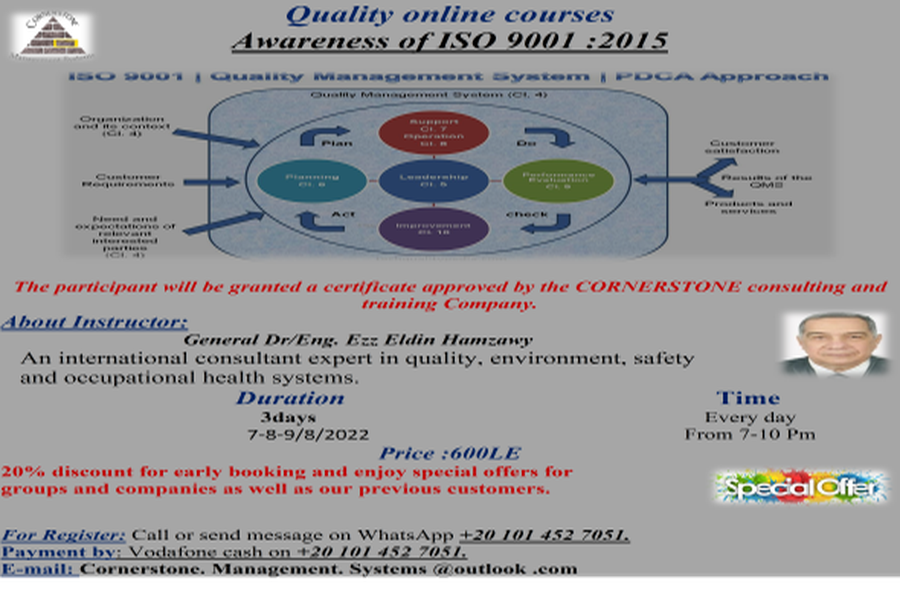 20% OFF
Sign up to redeem
Expires in