Free financial consultancy
Ensure financial stability for startups & SMEs
Get your 30 minutes monthly free accounting and tax services consultation session especially for start-ups and SMEs to get your business on the right path.
What does the offer include?
General discussion of your company's financial accounts.
Learn how the tax system works.
About WMA Consultancy:
We Help Companies Increase Revenues and Decrease Costs
We aspire to be the destination of corporates, investors, and entrepreneurs when there is a need for gearing up to tackle the challenging business complications through business formation and transformation.
To know more about our services, please visit our website:
احصل على ٣٠دقيقة شهريا من الاستشارات المحاسبية و الضريبية مجانا خاصة بالشركات الناشئة والشركات الصغيرة و المتوسطة للحفاظ على مشروعك فى مساره الصحيح
هذا العرض يتضمن:
1. مناقشة عامة لكيفية إدارة حسابات شركتك المالية
2. تعرف على كيفية عمل نظام الضرائب
عن WMA Consultancy:
نحن نساعد الشركات على زيادة الإيرادات وخفض التكاليف، ونطمح لأن نكون وجهة الشركات والمستثمرين ورجال الأعمال عندما تكون هناك حاجة للاستعداد لمواجهة تعقيدات الأعمال الصعبة من خلال تشكيل الأعمال والتحول.
لمزيد من المعلومات، بالرجاء زيارة موقعنا الإلكتروني
No Reviews yet, Redeem to Review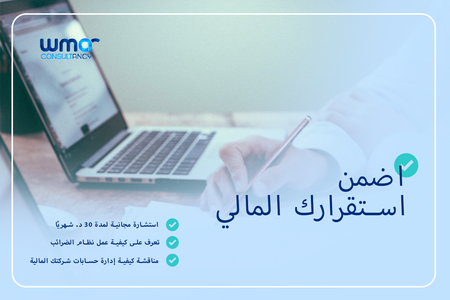 Free accountancy and tax Consulting
Sign up to redeem
Expires in