Establish your right business structure
Know all that you need to choose and establish your business
Get your business the right structure and establishment to give your project legal and Tax advantages.
A business is generally structured as a partnership, a limited liability company (LLC), Solo properties, or a corporation. All of these entity forms have pros and cons, choosing the right structure can guarantee your success or failure in the current competitive environment.
So with Wise law firm, you will get a free one-to-one consultation session about the various business structures and your best fit structure and to weigh all the variables based on your business needs and goals and then you will be assisted in all the legal requirements of the establishment process.
What does the offer include?
Pre- Establishment consultation 20 minutes session

The establishment process with all its legal requirements involved

Post-establishment needs assessment
About Wise law firm:
WISE is a law firm that provides outstanding legal services varies between Legal, procedural, and financial consultations.
امنح مشروعك الهيكل التأسيسي المناسب واحصل على العديد من المزايا القانونية والمالية.
يتم تأسيس الشركات في مصر كشراكة عامة أو شركة ذات مسؤولية محدودة (LLC) أو ممتلكات فردية أو شركة. كل واحد من هذه الأشكال له العديد من الإيجابيات والسلبيات ، واختيار الشكل الصحيح يمكن أن يضمن نجاحك أو فشلك في البيئة الحالية عالية التنافس.
لذا مع شركة Wise للاستشارات القانونية، ستحصل على جلسة استشارية مجانية حول الهياكل التجارية المختلفة وأفضل نوع تأسيسي مناسب لك و مناقشة جميع العوامل و الخصائص التي ثد تؤثر على قرارك بناءً على احتياجات عملك وأهدافك ، وبعد ذلك سيتم مساعدتك في جميع المتطلبات القانونية لعملية التأسيس.
هذا العرض يتضمن:
1. جلسة استشارية ل 20 دقيقة لمناقشة متطلبات ما قبل التأسيس
2. عملية التأسيس بكل مشتملاتها القانونية
3. تقييم احتياجات الشركة لمرحلة ما بعد التأسيس
عن Wise law firm:
تعمل وايز للاستشارات القانونية علي تقديم خدمة متميزة في عدة مجالات منها الاستشارات القانونية والاجرائية والمالية للشركات المختلفة
No Reviews yet, Redeem to Review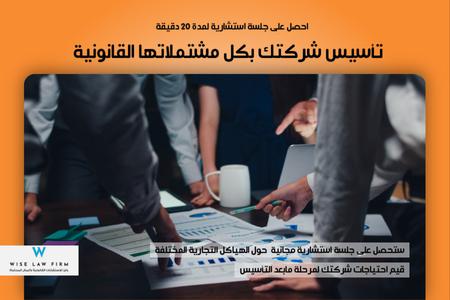 +40 % off for company establishment package + Free
Sign up to redeem
Expires in